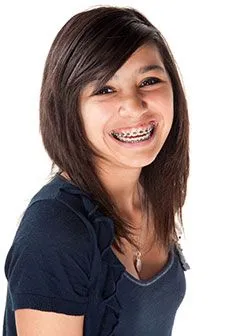 For most people, achieving a healthy, beautiful smile is the reason for choosing to receive orthodontic care. If you're self-conscious about your smile, having braces will greatly improve the way you look and feel.
Dr. Gray is very concerned about the facial growth and symmetry in our patients faces as well as maintaining or improving a patient's airway and joint position through their orthotropic and orthodontic treatments. A majority of children start out with attractive faces, but over time with a lot of them mouth breathing their faces begin to grow longer with a chin that is set back. This results in an ever increasing long flat face, protruding front teeth, and appearance of a larger nose. We strive to prevent these outcomes by developing an individual treatment for each patient.
How Orthodontic Treatment Works
Orthodontic appliances are made of metals and/or plastic. They may be removable or they may be brackets bonded to the teeth. By placing a constant, gentle force in a carefully controlled direction, braces slowly move teeth to the proper position.
Gone are the days when a metal band with a bracket was placed around each tooth. You can now choose the color of your appliances or ties on your brackets. Wires are far less noticeable, and the latest materials are designed to move teeth faster with more comfort. Today, any age is a great age to wear braces!
Duration of Treatment
Depending on several factors, including age, treatment method, and how minor or severe your case is, treatment time varies and can last between one and three years. A big factor to a successful treatment is you, the patient. The more involved and diligent you are, the quicker and more efficient your treatment will be. For children, receiving interceptive or early treatment, can help provide a quicker treatment time.
Before beginning your orthodontic care, Dr. Gray will discuss all of your options and provide an estimate for how long your full treatment may take. Please contact our practice to schedule an appointment and learn more about orthodontics and the treatments we provide.
We evaluate our patients tongue and mouth habits to provide Buteyko Breathing Techniques and Myofunctional Therapy during and after treatment in some of our patients to ensure the smile we guide is the smile our patients maintain for a life time.
Types of Braces
Appliances
Dr. Gray uses appliances as treatment in many of our orthotropics and orthodontic patients. These appliances are worn twenty four hours a day, removing only to brush and floss your teeth and brush/clean your appliances. Many of our appliances are fabricated with an adjustable expansion screw(s) in them. These appliances are usually expanded two to seven times per week by the patient or a responsible adult. This allows us to adjust the appliances to fit each individual as their teeth and mouth change over time.
It is amazing how many color and pattern combinations our creative patients can come up with. Our lab technicians then turn them into a reality that will make our patients smile every time they see it out of their mouth.
Brackets
Brackets are the most common type of braces and are more comfortable today than ever before. Made of high-grade stainless steel,
metal braces straighten your teeth by using metal brackets and archwires. With metal braces, you have the option of adding colored elastics (rubber bands) for a more unique and colorful smile.
Clear Aligners
Clear aligners are a series of comfortable acrylic trays that straighten your teeth like braces. Not only are the aligners invisible, they are also removable. You can eat and drink what you want while in treatment. Plus, the removable trays make brushing and flossing less of a hassle. Remove and brush the trays, brush and floss your teeth, immediately replace your aligners. The aligners are comfortable and have no metal to cause mouth abrasions during treatment.
We want you to feel comfortable and confident throughout your entire orthodontic experience. Our office is dedicated to making sure you receive the quality of care you deserve. In the end, when your treatment is complete, you will have the smile you have always dreamed of.